How To Get Fast Feedback During Retrospectives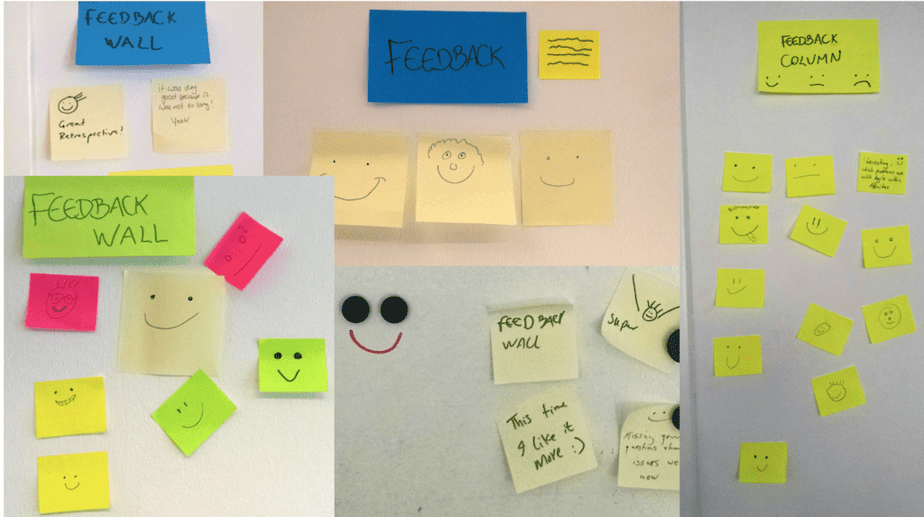 There are many ways one can use to get feedback after a meeting or retrospective. One of the best and easy ways to do that is to offer a feedback wall, column, space, window, door, whatever. All you have to do is to find a place where people can leave their feedback about the meeting you facilitated by sticking post-it notes on that place. I did that many times and it was very useful.
Facilitators want to provide effective meetings for their audiences. Getting feedback at the end of each session is a great way to achieve that. Also, it will help you to improve as a facilitator over time.
During my career, I facilitated many meetings. I'm not claiming to be an expert on this subject, but I learned one technique or two over these years. One of these tools is called Feedback Wall, a great way to get fast feedback from your audience at the end of your sessions. It will give you a good perspective if you met people's expectations or not.
When closing a meeting, I usually like to ask people to offer their feedback before leaving the room. I also say that offering their feedback is optional but it's of a great value for me as a facilitator because I can identify if I met people's expectations or not. This is a technique I use often during retrospectives, reviews, talks, training, but not during quick meetings or catch-ups.
The feedback wall method will give you a good perspective on the overall mood of the crowd at the end of the meeting. If the meeting was a retrospective, for instance, a good mood could indicate that people left the meeting with some good expectations in terms of what comes next, actions, improvements, etc. If the mood was not great it could indicate that the outcome was not effective and people didn't see the meeting as something valuable for them.
In general, you'll have to do your own interpretation of the results since all you'll have is hand-drawn smile faces. If you want to get more insights on how your facilitation went, you can also ask people to write one word or two that describe their feelings at the moment on the post-it note. I'd suggest you think in advance what you'd like to inspect in terms of feedback from the attendees, this always helped me to structure the feedback in a way that would be more useful for me as a facilitator.
The only issue I see with this method is that it will not give you a qualitative perspective. Since you want to be fast, you cannot ask people to write long texts or to think about many questions. Also, you have to do your own interpretation and figure out by yourself any improvement action. Still, I believe that most of the times, if you'll not have enough time or you didn't prepare in advance, this is a great method to at least get some feedback from your meetings.